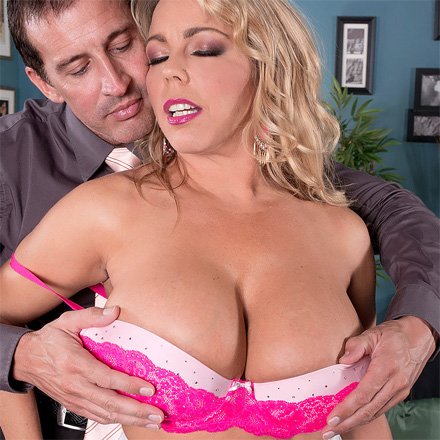 If it's big titties and deep dish cleavage that you are looking for, Amber Lynn Bach delivers that and a whole lot more in this scene from Scoreland. Fuck me, this girl has great tits. Watching her fuck is great, her big orbs are all over the place and you can tell this girl loves that cock deep in her twat. Check out the story of this wild scene:
Amber Lynn Bach is the Girl From S.E.X. Amber is an industrial spy. She's gotten a job at company that has a file her secret handlers want. It's Amber's job to get it without getting nailed. She arranges to meet the boss of the company at his home to go over a presentation but it's really to get access to his computer. The boss is always glad to have a sexy employee over to his place. But he's not naive so his home is wired for surveillance. When Amber arrives, she tells the boss she will set up the presentation on his computer but she's really loading up a flash drive that she'll stick in her deep cleavage until she can get away. The best laid plans go bad when the boss confronts Amber. He saw what she did on-camera with the flash drive and grabs her, ripping her blouse off her ample chest and grabbing the drive. There's only one way for Miss Bach to get out of this trap and that's by fucking her way out. But the boss has already decided that it's going to happen anyway. Amber drops to her knees and sucks his joint, her expert lips and tongue doing a dance on his dick. The boss roughly escorts her to a nearby couch to fuck her hard, not that it will change her spying eyes. It would be no surprise if the boss lets her keep her job anyway considering what a hot lay she is and how well she fills out a bra. Amber was supposed to get the file and not get nailed.
No matter what, it's all about her big tits, and those lovely melons are front and center all the way. I would love to motorboat those big titties, what do you think?

Don't miss the one- click here to download this full scene now!